WE'RE GOOD TO GO!
We understand that the past few months have been challenging for everyone, but we are delighted to announce that we have undertaken the necessary procedures for Covid-19 re-opening and have gained the Visit England 'Good to Go' Industry standard and consumer mark, and so are ready to welcome our business meetings and events business back to Wetherby Racecourse.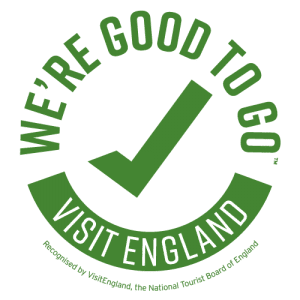 As a further way of providing our clients with the confidence to return, we have also achieved AIM Secure accreditation from the Meetings Industry Association, the UK's leading trade association for the business meetings & events sector.  Managed by the MIA, this accreditation recognises our dedication to delivering a first-class service, to providing excellent facilities in an environment that is both healthy and hygienic, and a total commitment to do the very best for our customers and employees, during these testing times.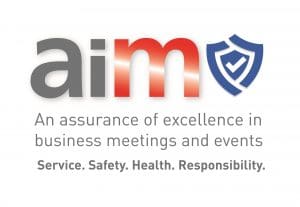 It is imperative that we meticulously plan and play our part in actively demonstrating the high standards of compliance and hygiene in which we operate to rebuild consumer confidence and we have been working hard to adapt how we deliver events to provide the safest possible environment for all of our visitors.
Procedures introduced include but are not limited to:
Staff Training – all of our staff have undertaken specific Covid training, so they understand how the virus is spread and they know what they have to do in order to stop the spread.
PPE – All of our staff will be wearing appropriate PPE, and we will also have PPE available to visitors should it be required.
Venue registration – We are using the MIA's 'Trusted Trace' app in order to comply with Government guidelines regarding track and trace.  This provides an Event Check in Pass to visitors phones, which we simply scan on arrival.  We will also be temperature scanning everyone who accesses the venue buildings (including staff).
Additional Cleaning & Sanitisation – We have introduced robust cleaning and sanitisation procedures throughout the venue, before, during and after each event, to ensure we maintain the correct levels of effective hygiene.
Social-Distancing – We have introduced social-distancing measures across the venue and will be actively promoting 'the 2 metre rule' throughout each event.  One-way systems will be put in place wherever necessary.
Hand-Hygiene – Hand sanitiser stations are located throughout the venue and informational signage will actively promote effective hand-washing.
Large Event Suites – We offer a variety of event spaces and acres of outside areas.  During this period we will be utilising suites that offer more space than you need, with multiple doors/windows that can be opened to offer natural air ventilation.
We look forward to welcoming you back!
For further information or to book your next event, please contact us on 01937 582035 or email: events@wetherbyracing.co.uk
The Conference & Meetings Industry falls under the Visitor Economy section of the Government Covid Guidelines – click this link to read the lastest news.