Hi Everyone, I hope you enjoy reading the first update of Wemyss Point, the first of Wetherby Racecourse's official ambassadors as part of the Retraining of Racehorses 'Horses for Courses' project.
By way of introduction, I am Beth Hutchinson, the person lucky enough to have shared Wemyss' first and second careers, I am truly grateful to Michelle & the Wetherby team for the opportunity to work together.
I grew up in Startforth, just outside Barnard Castle where I was lucky enough to encounter the Ellwood family. Some of you may remember Pat & Tommy with horses such as Whitson Joe, Chosen Slave, Mister MuddyPaws, and Thorsgill regularly frequenting (and winning at) Northern racetracks from the 1970s to 2000s. Through Pat & Tommy, I was brought up to ride racehorses from an early age; when I was young there was no such thing as summer jumping so the horses came home for their 'break'. This meant the perfect opportunity for myself and my friend to jump on board and we had many fun times hacking, jumping, and even taking them to Pony Club Camp! This childhood resulted in me understanding the versatility of racehorses early in life, hence I am very pleased to see how the public awareness of this reality is starting to grow. Organisations such as the ROR play a great part in promoting the life of the retrained racehorse and have many different series in all aspects of competition and a superb National Championship Show each year held at the prestigious Aintree International Equestrian Centre at the Racecourse.
When I heard about the new initiative "Horses for Courses" which involves racecourses sourcing and supporting an ambassador horse to demonstrate the racing world's commitment to the continued welfare of horses beyond their racing career, I was quick to submit Wemyss details when Wetherby came on board.
Wemyss was foaled in 2012, by Champs Elysees out of Wemyss Bay (daughter of Oaks winner Wemyss Bight and half-sister to top jumps stallion Beat Hollow). He was bought by Phil Kirby as a 3yr old in 2015, and a year later was offered for sale to stay in the yard to avoid him being sold elsewhere. I had been friends with Phil & Pippa since before Phil started training in 2007, and this friendship continued as Phil obtained his license and the formerly mentioned Thorsgill was one of his first runners under rules. At the time in 2016, my Father-in-Law John Rowlandson, a keen racing man with lots of previous involvement in different horses, was looking for a new investment, and our family relationship with Wemyss as part of The Green Oaks Partnership was born.
Through Wemyss, lifelong friendships were formed within The Green Oaks Partnership and I am sure many fellow members will be reading this now.
Wemyss quickly showed his talents and gave the partnership and ourselves some fantastic days with 5 wins, 6 seconds, 4 thirds, and 2 fourths during his career. 3 of these wins came at his beloved Wetherby over hurdles in 2017 – 18.
Sadly, in 2018 John passed away, but myself and my husband James were keen to continue with his share in Wemyss for the rest of his career. We had many more great days out, with Wemyss winning the Pontefract marathon flat race in April twice, before he was retired there as a 10 year-old when going for the hat-trick in April 2022. On that day it was confirmed that Wemyss would come home to live with me, and he joins Chloe's Image (another previous Phil Kirby runner), Teleported (our 2-year-old Telescope gelding), and my 2 veterans who I used to event.
John with his beloved Wemyss in 2017, and leaving Green Oaks Farm for the last time in 2022
I have had lots of success showing Chloe's Image in the ROR series and would like to follow a similar route with Wemyss. To test the water, he went to his first show at Hambleton in May 2022, in-hand just to see how he handled the atmosphere and took second place and Reserve Champion, only beaten by a horse who is renowned on the circuit so we were extremely happy – a good start!!
Hambleton Show 2022 Open ROR In Hand Reserve Champion
Since then, Wemyss spent the rest of the summer winding down from racing life, settling in, and getting used to the new routine outside of a big yard environment. He has become best friends with "Ted" our 2-year-old (completely different breeding despite looking almost identical) and together they are extremely cheeky… Wemyss also had his first encounter with a snowy turnout and loved rolling about in it!!
Wemyss (left) and Ted (right) enjoying being together, and Wemyss loving the snow!
He started his ridden work again just after New Year and is now ready to start cracking on in whichever career we decide. All racehorses are very different in their trainability; Wemyss is the happiest horse I have ever been associated with, he loves his life, and always has his ears pricked looking forward to his work. With happiness comes comedy though, so we have had a couple of hairy moments when he finds himself entertaining and throws in a good buck or scoots off in a direction I'm not expecting!! He is learning all the time, hacking out in company or alone (in training horses are rarely alone) like a professional, and now starting more intensive work in the school. For all racehorses are ridden from an early age, the training required for other disciplines is very different so we need to establish his understanding of the different aids. I always describe a well-trained show/dressage horse as having 'the remote control buttons on their sides' so all the buttons are there with only the slightest movement of the leg aid being able to select which action is being asked for; with racehorses, it's often like they just have the one button on their side and it means 'go'. It is therefore the first stage of racehorse retraining to a. establish just which buttons are there (Phil Kirby horses are always well trained and have more buttons than most) and b. educating the horse to understand which new buttons are needed. With Wemyss, he is enjoying learning but still has plenty more buttons that need adding to his repertoire of understanding before we head into the show ring or the dressage arena.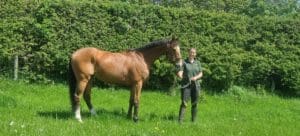 Looking smart in his summer coat – May 2023
Thanks for reading this and I hope you've found it interesting; I will endeavour to share updates on Wemyss every few months as his career progresses; hopefully by my next update he will have made his showing debut, and we will have his breathing under control as we know he struggles with summer pollen, and I will be starting to identify which ROR discipline is the one Wemyss enjoys most.
Beth & Wemyss x