The search is on for the Yorkshire Wonder Horse!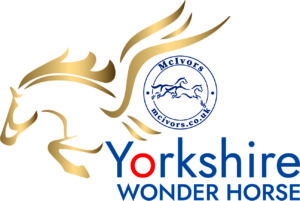 Go Racing In Yorkshire in partnership with leading Yorkshire equine supplier, mcivors.co.uk, is leading the quest.
£100,000 will be shared between the owner, trainer, jockey and yard of the first horse to win at all nine Yorkshire racecourses between Saturday 26th March 2022, the start of the flat turf season, and Sunday 31st December 2023.
The competition is open to all racehorse trainers across the country and both flat and jump races will be included, with the nine qualifying Yorkshire courses being; Beverley, Catterick, Doncaster, Pontefract, Redcar, Ripon, Thirsk, Wetherby and York.
John Sanderson, acting Chairman of Go Racing In Yorkshire commented:,
"This feat has not been achieved in Yorkshire before and while it's a significant challenge, we believe this is possible – in 2020, Main Point, trained by David Pipe, won at nine different courses in 11 months.  £100,000 is a great incentive to encourage owners and trainers to run their horses at the Yorkshire tracks. We are thrilled to launch this exciting and unique initiative where hopefully a remarkable sporting story will unfold across nine racecourses resulting in the crowning of the first Yorkshire Wonder Horse."
Jason McIvor, of www.mcivors.co.uk, added,
"We're celebrating our 50th year in business and historically, the racing community, along with agriculture, has played a significant role in our success. This is a great opportunity to be able to give something back to an industry that has been integral to our growth and we're thrilled to be part of it."
Malton based trainer, Nigel Tinkler is keen to target the bonus,
"Anything that encourages people to run their horses in Yorkshire and racegoers to attend meetings has got to be a good thing.  I think this is a great initiative and we'll definitely be targeting it.  It will probably suit a middle-distance horse and we may have to alter our training methods a little to encourage our horses to stay a bit further."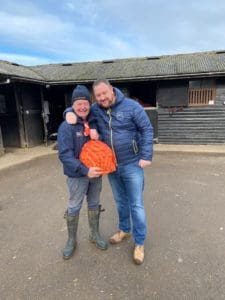 Picture shows Jason McIvor, partner at Wm McIvor & Son giving a bag of carrots to racehorse trainer Nigel Tinkler, to launch the Yorkshire Wonder Horse.
Another Yorkshire trainer excited by the bonus is Ruth Carr, she said,
"This is something that all owners can target and makes a large prize pot available for all abilities of horses, we just need to find the right races for them.  Hopefully we've got something progressive enough in the yard to tick off the nine courses before next December."
In addition to the £100,000 bonus, McClarrons Sport, who brokered the deal, Wm McIvor & Son and Go Racing In Yorkshire will combine to donate £5,000 to Racing Welfare should the challenge be completed.
Tom Landale of McClarrons Sport said,
"We are delighted to have been able to facilitate the Yorkshire Wonder Horse bonus.  McClarrons Sport specialise in the insurance of sports related bonuses and it's great to be able to support a creative performance bonus mechanism covering every racecourse in our home county.  Our experience tells us that this will be hard to achieve but it's not impossible and we hope to see the bonus won."
The race to be the Yorkshire Wonder Horse starts next month and full details, including terms and conditions can be found on the Go Racing In Yorkshire website.
END
Editors Notes
Go Racing In Yorkshire
Go Racing In Yorkshire is the central marketing organisation for Yorkshire's nine racecourses.  It is funded by the racecourses and the sale of the annual season ticket which allows admission to all of Yorkshire's race meetings.
Contact: Charlotte Russell, charlotte.russell@goracing.co.uk or 07305 932411.

Wm McIvor & Son
Wm McIvor & Son is a family run company that has been serving the farming and equestrian community for over 50 years. Now in its third generation, there are three stores in Northallerton, Pickering and Durham as well as an ecommerce site (https://www.mcivors.co.uk/), providing agricultural, equine and pet supplies at competitive prices.
Contact Lizzie Selby at Peachy Digital on lizzie@peachydigital.co.uk, 01609 751676 or 07981164118.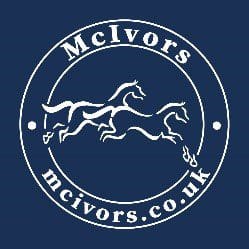 McClarrons Sport
McClarrons Sport is a specialist sports insurance broker. Operating across all sports globally they work closely with clients to build creative and robust insurance solutions from their headquarters in Malton.
For more information see https://www.mcclarroninsurance.com/mcclarrons-sport/